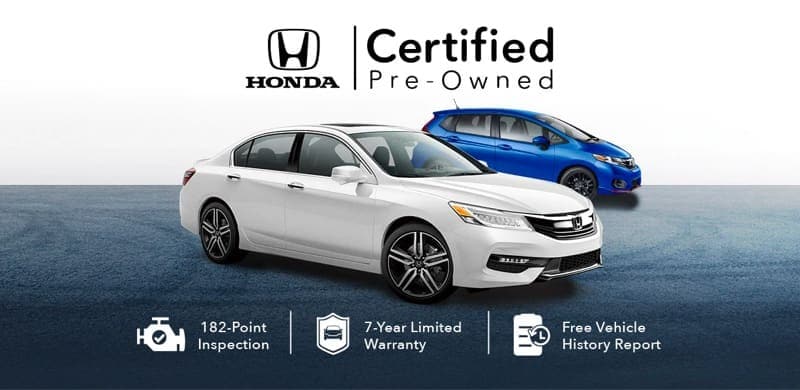 Certified Pre-Owned
Nothing compares to the quality of a Honda. No other program comes close.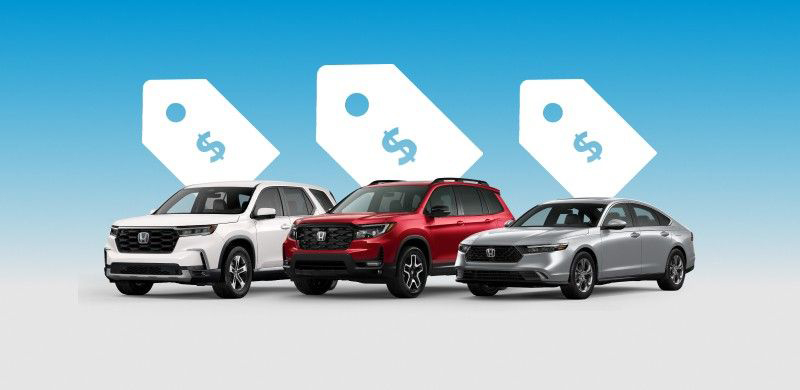 Current Offers
See this month's featured current offers going on now on new Honda vehicles.
Our Reviews
Part was in stock. Fast service. Really nice dealership.
Very efficient and friendly
Jay, Bill and Scott were great today! This dealership has always been so good to me. Bill fixed my key remote, then Scott showed me some CRVs that I was thinking about a trade in, since I was waiting on my key. Then, Jay went way out of his way to help me with my tire issue. God Bless these guys! A+ for service always!😊
Best dealers in Knoxville. David McGraw had supreme customer service skills. Very professional, super clean store, everyone was real nice!
The way car buying should be. Alex and Nick were both fantastic to deal with and they took time out of their busy day to explain things to me as a young car buyer. I absolutely love my new little car and will definitely be returning in the future.
My husband and I were thoroughly impressed with our experience here. Adam Ezell was the guy who helped us and he went above and beyond. We were there for QUITE A WHILE (most of the day actually!) and Adam was very patient, never made us feel pressured or rushed. Adam let us look at a few different vans and we took our time and paid a lot of attention to detail. He was with us for the whole process and was very professional but laid back and made us feel important and comfortable. We ended up getting an awesome minivan. Our experience was great and we look forward to continuing to get it serviced there in the future!
We had a great experience from start to finish. Our salesperson was Adam Ezell and he did everything right. No pressure. We received the price we wanted. I would happily recommend Rusty Wallace Honda. Great People!!
The entire dealership is top shelf. The Sales staff was a pleasure to work with when we purchased our 2021 Pilot. We needed some warranty service and not only did they get us in and out without issue, they found a nail in one tire and fixed it for no charge! What a way to start a Monday!!! I highly recommend working with Rusty Wallace Honda!! They know what it means to take care of the customer.
While on day 1 of a 15-day road trip, a my check engine light came on in my Honda Pilot. I called five or six dealerships along our driving route asking for them to look at my car. None were able to fit me into their schedule. They were polite, but all said no. We were headed toward Knoxville, so I thought I'd give this dealership a shot. They also had no space to fit me in, but realizing my predicament, Mr. Sidney Booth said he would find a way. And he did! Once we arrived at the dealership, he got my car in, had a diagnostic test completed, and was able to explain the issue my Pilot experienced while we were driving. If it weren't for Sid working to get my car in, I don't know what we'd have done. Today we're headed north back home, and I am truly appreciative for his excellent service and professionalism. Without him, our road trip may have been cancelled. Thank you, Sid! We appreciate you!
We have purchased 4 cars from here and we have never had any complaints!!! We take our cars here for service and maintenance too!! They have all the car facts ready and they are always so clean!!! Never had a lemon' from here! The staff is very friendly! We work mostly with Adam Ezell who is very knowledgeable about the vehicles we test drive! He is never pushy and I've never felt "talked into" buying something that I truly don't won't! We love Chad! Mike! Nick! Jake! Scott! And everyone else who's helped us over the years!!! Been with you guys for 12 years!!! Thank you Rusty Wallace Honda
Everyone there is wonderful to work with and very helpful and respectful
Always helpful, and get the job done well!
Adam Ezell is awesome! Bought my first car and had a GREAT experience!!
Their service was great and very friendly I highly recommend coming here and looking for a new or pre owned car! Also, Tyler is a great salesman I highly recommend going to him.
Nice people! Will definitely return.
We had such a positive experience working with Dave at Rusty Wallace Honda! He helped us find the perfect sedan for our family. He made sure we saw all the cars we wanted to see and even helped link our phones to the vehicle after we purchased it. I appreciate that he didn't pressure us into purchasing a car we weren't interested in like other car sales folks. He was so patient with us. Highly recommend working with Dave!
David McGraw was friendly and helpful and I'd encourage anyone looking to buy a new car to ask for him directly.
Great experience here, I felt no pressure. My salesperson was Lisa Wallace. Lisa was a very down to earth person never pushy. Very knowledgeable and helpful. I highly recommend her! Thank you Lisa!
I did not buy my 2019 Honda Passport at Rusty Wallace Honda, but my next Honda will come from there. It was time for routine service (code B167 - oil change, brake fluid, rear differential fluid, and tire rotation). I called the other Honda stores in Knoxville and also in Cleveland, TN (where I bought the vehicle) and all of them said they had no appointments for over a week. I called Rusty Wallace, and they said to bring it in and they would work it in. I appreciate this work ethic, and I will go nowhere else when I get another Honda.
I went to Rusty Wallace after a bad experience at another car lot (different brand) and Lisa was the best sales person ever. She was knowledgeable about the cars I was interested in and made the process so easy. So thankful Lisa turned my car buying experience into the best ever! Thanks!!
Took my 2017 Honda Civic into Rusty Wallace Honda in Knoxville, KY for my metal splash guard that was falling off, from a service that I had gotten done at another Honda Dealership. Rusty Honda got me back on the road with no issues and didn't even charge for the repair. Total time was 25 min, in and out. Mrs Thomas, Wendy was the service representative that helped me and she was very helpful in get the my car fixed and me back in the road to South Carolina. If I was local I would definitely be doing business with Rusty Wallace! They were also very friendly to my Great Dane, Odin, who was with me during the trip!
Rusty Wallace Honda is a good dealership. The salesmen and the management are all friendly and helpful. Almost a year ago my wife bought a 1 owner Kia Optima there. Wasn't any pressure to buy or get the deal down. Just business as usual. I was there today to cancel an extended warranty on the Optima which we traded at a different dealer this past Saturday. I expected some furrowed eyebrows but I was wrong. A worthwhile dealership if buying new or used.
This is the most helpful car dealership that I have ever been to. They always go out of their way to help you. Chad is one of the most honest people you will ever deal with and Jay in services was extremely helpful. Jay made sure our van was fixed and even found ways to save us money. I cannot recommend these two people more.

Welcome to Rusty Wallace Honda
Since 2001, Rusty Wallace Honda has been one of the premier Honda dealerships in Knoxville and eastern Tennessee. Our remarkable team of sales and service professionals are some of the best in the industry, and we look forward to doing business with you. Whether you're in the market for a new or certified pre-owned Honda or something else from our used vehicle inventory, stop by and give us a chance every day but Sunday. If you're still not sure, check out some of these reasons to make us your next dealer.
We appreciate you taking the time today to visit our web site. Our goal is to give you an interactive tour of our new and used inventory, as well as allow you to conveniently get a quote, schedule a service appointment, or apply for financing.
At our dealership, we have devoted ourselves to helping and serving our customers to the best of our ability. We believe the cars we offer are the highest quality and ideal for your life needs. We understand that you rely on our web site for accurate information, and it is our pledge to deliver you relevant, correct, and abundant content.
Please do not hesitate to contact us with any questions you may have. Our staff is happy to answer any and all inquiries in a timely fashion. We look forward to doing business with you!
Read more...
Get Directions To Rusty Wallace Honda