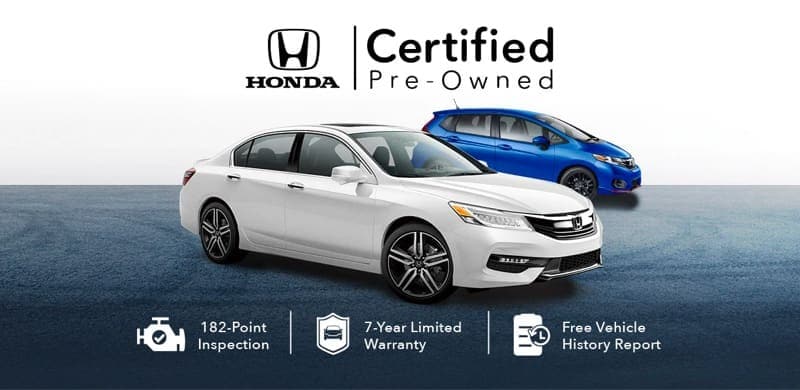 Certified Pre-Owned
Nothing compares to the quality of a Honda. No other program comes close.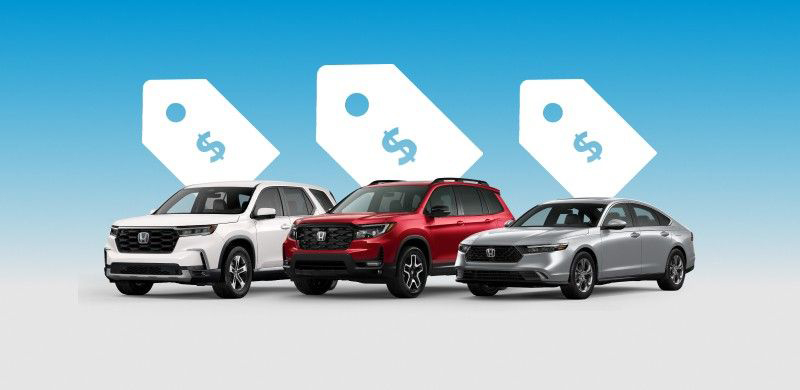 Current Offers
See this month's featured current offers going on now on new Honda vehicles.
Our Reviews
Always pleased with the honesty & service here. Sid is great to work with.
It was great! Randy was so nice and did his best to get me the best deal! :)
Randy is the best service provider I have ever met. He puts effort into remembering my life outside of my car and always ales me feel like more than a client. Randy is the type of guy anyone would be very lucky to have as a friend. Everyone at the dealership is kind. The facility is very clean and well kept.
Very nice dealership and the staff here is phenomenal. Very down to earth , friendly and I would highly recommend to anyone!
Getting my car worked on was the last thing I wanted to do on a Saturday morning as a walk in. But surprisingly they were able to work me in right away, explained everything about what would be done for my 30,000 mile maintenance, and along with their amazing competence, made it very pleasant. I appreciated them being friendly and conversational. It brightened my morning.
We bought our CR-V and Honda Ridgeline new from Rusty Wallace on Callahan Dr. We really like Chad Campbell and Wendy Thomas. We only take our vehicles here to be serviced.
Rusty Wallace is very friendly and timely in their services. We have been Customers of Rusty Wallace for many years and will continue to use Rusty Wallace Honda for our Vehicle needs.
I purchased my 2021 Honda Passport at Rusty Wallace Honda in March of 2021 and had a great experience and I also just had a phenomenal experience in the service department. I had an issue with a local glass repair company and was able to bring my car to the dealership and Sidney Booth went above and beyond to help us. It was very obvious that he cared about my experience and made it super easy on us. He showed me the waiting area and made sure I was aware of everything I might I need while I waited. He had great communication the whole time. I am very impressed. It is great to actually feel valued as a customer instead of just another person. Thank you so much Sid and Rusty Wallace Honda!
Sid Booth always takes great care of me!
We had a great experience. We had Bradley Ellis as our salesman. He has a wonderful personality. Great to talk to and not at all pushing. He was extremely helpful and made the process go very smoothly in helping us get into the car we wanted with a deal that worked for us. I highly recommend him!! Everyone else at the dealership was wonderful. Very friendly and helpful. It was the best experience I have had buying a new vehicle
THE PERSONAL SERVICE IS ALWAYS THE BEST,,THE PRICES- OUTRAGEOUS!
I recently purchased a vehicle from Rusty Wallace Honda. I thoroughly enjoyed working with Salesman Brian Metler. His kindness made the purchase easy and it was a very enjoyable experience. I have done business with Rusty Wallace Honda bringing my mother to the dealership in 2008. She drives from Kingston to have all of her service done. I use the service department and I appreciate the Customer Service Wendy provides.
Paige nance and the entire staff was a pleasure to deal with. This was by far the best car buying experience I have had from any dealership it was top notch service. Will be back for future purchases for the wife's cars in the future.
Best experience I've personally ever had while buying a car Alex made it the smoothest and easiest process you could ever ask for! I highly recommend Alex if you ever need a vehicle trust me you won't regret buying from him🙌🏼💯
Not a great area of town but my girlfriend says it's the best Honda dealer around.
What a great experience buying my new 2022 Honda CRV Hybrid car with Rusty Wallas Honda. Our sales person Adam was so knowledgeable and efficient with helping us pick out the touring package that has ALL the safety features I was looking for! The CRV is so roomy, I can now fit 3 full car seats in the back row for the grandkids! Not to mention better fuel mileage with the hybrid. I look forward to having all my service done there as well in their full service area. Did I mention they have several massage chairs in their waiting lounge???
Honest and trustworthy service department. We bought our Odyssey there in 2011 and have taken it back for routine maintenance ever since. They offer the loaner vehicle and do a terrific job. This past experience with some intake air issues on our beloved but gradually aging Odyssey was no exception. Great service department. Terrific.
Superb Experience That comes Highly Recommended. The Staff is Professional, courteous, accomodating, Kind and the shop was very Clean and orderly.
Service was OUTSTANDING. The loaner car would not start this morning and in 20 minutes, a tech showed up at my home and I was on my way. Also, I had a flapping sound under the car and it was corrected. The 30,000. mile service was expensive, but I was informed and agreed prior to the service. But, it seemed very high!!!! That said, I will be back because of the OUTSTANDING service and communication by Steve Cox.
Always receive great service. They know what customer service means. Appreciate their service
Excellent customer service every time I am there!
Rusty Wallace staff are most professional friendly and give great customer service!
My experience with the service department was great! They were able to take my vehicle ('22 Odyssey) back right away when I arrived at my scheduled appointment time. I went in for an oil change which includes tire rotation. Both of which I verified happened (I verified by marking a tire ahead of time to make sure it was actually moved, and wiping some of the old oil on a paper towel and comparing to new oil to make sure new stuff was lighter in color). Turns out, they did both things! They changed my oil and rotated my tires. I consider that a win. Also, the wait is nice because they have massage chairs and snacks. Not a bad experience at all!
The most professional auto dealer , kind , easy going without any judgement- everyone is treated equally well . In todays world that is not common . I appreciate the genuine sincerity of a company who demonstrates such respect for human beings.
Very professional. Wendy went above what is expected to make sure I had a world class experience. She is knowledgeable and kind. The customer service provided by the whole team is rare.

Welcome to Rusty Wallace Honda
Since 2001, Rusty Wallace Honda has been one of the premier Honda dealerships in Knoxville and eastern Tennessee. Our remarkable team of sales and service professionals are some of the best in the industry, and we look forward to doing business with you. Whether you're in the market for a new or certified pre-owned Honda or something else from our used vehicle inventory, stop by and give us a chance every day but Sunday. If you're still not sure, check out some of these reasons to make us your next dealer.
We appreciate you taking the time today to visit our web site. Our goal is to give you an interactive tour of our new and used inventory, as well as allow you to conveniently get a quote, schedule a service appointment, or apply for financing.
At our dealership, we have devoted ourselves to helping and serving our customers to the best of our ability. We believe the cars we offer are the highest quality and ideal for your life needs. We understand that you rely on our web site for accurate information, and it is our pledge to deliver you relevant, correct, and abundant content.
Please do not hesitate to contact us with any questions you may have. Our staff is happy to answer any and all inquiries in a timely fashion. We look forward to doing business with you!
Read more...
Get Directions To Rusty Wallace Honda